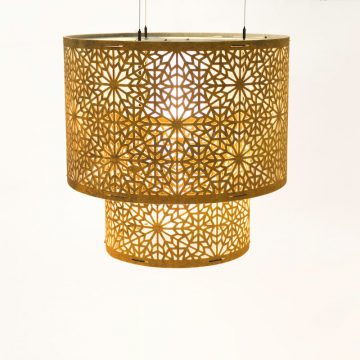 BuzziChandelier
Sas Adriaenssens
Romantic lighting, modernized
BuzziChandelier creates a bold focal point while adding acoustic softness to a room. This contemporary take on the Moorish lantern is a new way to add atmosphere with artful light and shadows. Two layers of sustainable BuzziFelt combine to over an LED light source. This hanging pendant can be used as a singular design statement or in multiples for added romance. BuzziChandelier is an ideal design statement and acoustical solution for offices, restaurants, hotels and more.
At NeoCon, BuzziSpace showcased its printing capabilities on BuzziFelt, with the introduction of two new finish options with a marble look: Carrara and Emperador. BuzziChandelier is now available with a plain or perforated shade.
www.buzzi.space