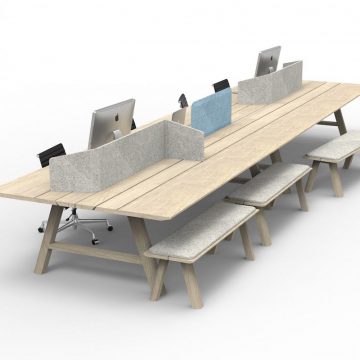 BuzziDesk
BuzziSpace Studio
Desk divider screen with metal profile. Not only does the BuzziDesk safeguard your privacy at work; it keeps out your colleagues' irritating telephone or computer sounds as well. This workspace divider also hides your cable clutter and computer screen in an orderly fashion. It is easy to install in any office, and with its tactile appearance and colorful tint it will make every working day feel like a party!
Are you sitting at one big table next to different colleagues? With the BuzziDesk Split you can gain more privacy by creating a personal and quiet workspace. Just slide the sound absorbing BuzziDesk Split over the table and say goodbye to irritating sounds or elbow fights!
Acoustic desk panel for existing desks. BuzziWrap Desk is a shield for noise and visual distractions. As it wraps around your desk, it converts a plain worktop into a cocoon while hiding the typical cable clutter on the backside of your table. It's easy to install, and thanks to its various sizes and x positions, it can be attached to almost any existing desks. In combination with the colorful pallette of BuzziFelt, it will brighten up your day in silence.
www.buzzi.space