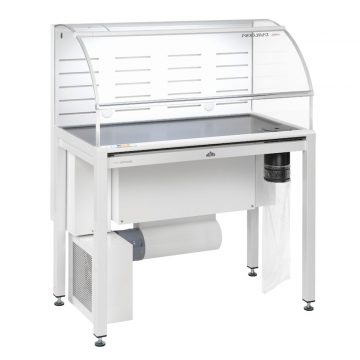 Akkurat
Within modern research laboratories, the development of new medicine is a constant. In association with these new developments and work with highly toxic substances, an increase in safety concerns arises which the laboratory staff commonly experiences. The safety of laboratory workers whilst handling toxic substances calls for a potent protection in order to insure maximum safety. Highly sensitive microbalances require a completely vibration-free, as well as air-draft protected environment. 
The Akkurat guarantees a precise and safe work environment whilst working with highly-active substances and provides additionally excellent ergonomics and comfort. 
The fully vibration decoupled and shock absorbent worktop allows for a quick and precise calibration whilst the usage of highly sensitive microbalances. All functions of the Akkurat can conveniently be chosen via an integrated smart control panel, such as brightness and color temperature of the glare free LED illumination. 
The spoiler shaped airfoil at the front table edge has two functions: Optimal air flow pattern and convenient armrest. Suctions of hazardous substances are maintained by especially designed suction openings in the back panel to prevent dangerous substances from being released causing danger for the user. 
High standards in hygiene, decontamination and cleaning are being provided by the homogeneous, plain shape. The huge easy to handle front screen allows for an especially handy and convenient set up of the weighing equipment. The front screen shuts itself down by the integrated automatic closing mechanism. 
Safe disposal of wasted materials is provided by the disposal system, directly integrated in the worktop. The arrangement of the filter housing and the vibration decoupled fan unit take care of maximum leg room. 
Electrostatic charges within the workspace of the balance enclosure are avoided reliably by an integrated ionization electrode at the leading edge. 
Filtration: HEPA-Filter H14 acc. DIN EN 1822
LED illumination: Selectable color temperatures daylight white, cold white
www.waldner-lab.de