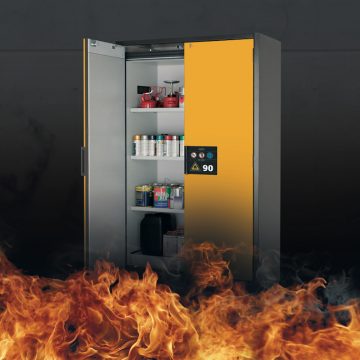 Asecos Security cabinets
Safe storage and handling of hazardous substances in day-to-day working life. To ensure all-round protection, the product portfolio includes the following categories: hazardous materials storage in the workplace; extraction and filter systems; hazardous materials handling in outdoor areas; protection of non-smokers; maintenance and service solutions for all sectors.
Safety storage cabinets are the prime focus: appropriate fire resistant cabinets across a range of sectors such as pharmaceutical, academia, industrial and agricultural, providing safe and legally compliant storage. All products in othe range of flammable storage cabinets are GS-tested and guarantee compliance with the requirements of EN 14470-1/-2 and EN 14727.
www.asecos.com