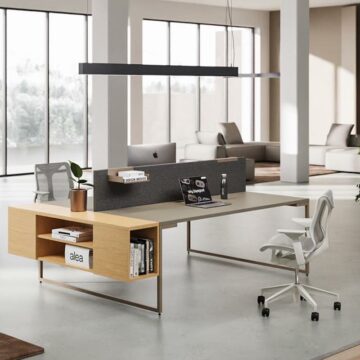 Ibis
Ibis is designed for modern and functional workspaces. Slim lines are enhanced by the edge profile which is 3 cm followed by the slim leg profile which is a square metal structure and is manufactured from 2 mm thick steel. The actual leg width mesurement is 3 cm.
The leg stops before the mid span and forms a 90° angle under the worksurface to give the structure additional strength. Visual seated height privacy screens are secured from under the worksurface which further supports the clean lines of Ibis. Screens come in acrylic or fabric.
Large single or double uninterrupted worksurfaces cover the structural pedestals, which are available in different widths and come equipped with a hollow backspace that allows for vertical cable management.
www.aleaoffice.com