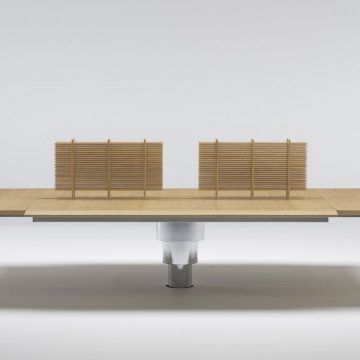 "Roots penetrate into the earth, providing strength and structure. Trees have roots, shrubs have roots, and flowers have roots. But houses also have roots, as do people. Even this table has roots. 
Teamer is a large task table with a slender worktop that appears to be magically suspended over its strong trunk. It looks almost as if it floats in the air, the result of some sort of space technology.
This is how Michele De Lucchi describes Teamer, a series of task tables for contemporary work environments aimed at flexibility of use and lightness of form. Enhanced by clean, minimalist forms and refined structural solutions, the table appears to have sprouted up from the floor, with its top floating in thin air. It is supported by a central column consisting of nested steel cylindrical elements that taper down from below the table to the base plate fixed below the raised flooring. 
Exclusive technical features and elevated functional performance, made possible by a range of hidden technologies, make this table capable of enhancing well-being in the office.
www.unifor.it