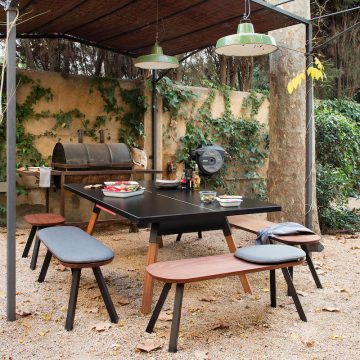 You and Me Bench
In the You and Me collection of tables and benches there's time for everything. Time for children to have their breakfast as the clock ticks down. Time to invite some friends around for dinner and wind down after a hectic day. There is time to make the most of the good weather and enjoy some barbecues and other outdoor celebrations. There's even time to get serious and make You and Me your work desk. And it goes without saying that there's plenty of time for ping-pong sessions too.
The benches come in 4 different lengths (86.6 in, 71 in, 47 in and the 20 in stool), in order to cater to all 3 models of the You and Me table. What's more, they come with cushions and additional upholstered covers, with options for indoor or outdoor use, ensuring optimum comfort.
Oak finish is just for indoor use.
www.rs-barcelona.com