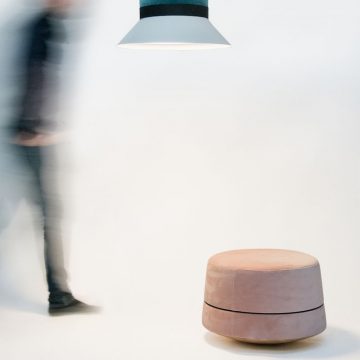 Move your body, move your mind
BuzziBalance creates a non-traditional environment that brings people together, provoking joy and conversation. The BuzziBalance family offers both a seating and standing element.
While standing, BuzziBalance Board becomes a muscle activator. As one balances on the wooden-carved rocking board for a few moments, the mind and body are awakened.
While sitting on the BuzziBalance, a rocking pouf in small and large version, the benefits of purposeful stretching are brought into the workplace. The upholstered seat also offers added acoustical benefits. BuzziBalance offers the best of both worlds. Stretch your legs for a quick phone call or gather and rock away during a creative session.
Following the success of the original BuzziBalance, BuzziSpace collaborated with 13&9 to expand the collection with BuzziBalance High. The new model features a taller seat, designed to pull up alongside a workstation.
BuzziBalance High is a rocking pouf that provides an alternative solution to the traditional static chair. The new single seat option aligns perfectly with tabletops and desks. Similar to a stability ball, it helps improve one's balance and posture, while simultaneously provoking joy and conversation.
The BuzziBalance series is ideal for creative hubs in schools, libraries, offices, collaborative spaces, and more.
www.buzzi.space