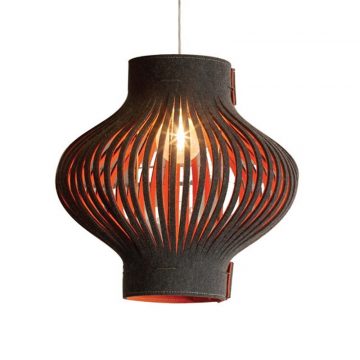 BuzziLight
Sas Adriaenssens
Lighting fixture in BuzziFelt
The BuzziLight is a striking phenomenon. The strips of sound absorbing felt are fixed around a steel structure, allowing this light object to take on different shapes. Whether you opt for eye-catching Pink or any other of the color options, the BuzziLight is a trendsetter in any space.
Mirroring the iconic shape of BuzziSpace's BuzziLight, the BuzziLight Mono makes a design statement with just one color of BuzziFelt. This acoustic light houses an LED bulb, offering soft light and soft sound.
The classic BuzziLight, which blends illumination and acoustics, is also available in Alhambra and Royal patterns from the award-winning BuzziFalls collection. Laser-cut felts make a dramatic statement with artful shadows, and softened sounds.
BuzziLight is the perfect design statement and acoustical solution for offices, restaurants, hotels, institutions, residences and more. It is CE and UL listed.
www.buzzi.space