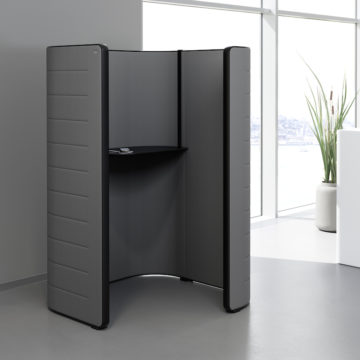 Interstuhl has carefully analysed the way we work today and, with SPLACES, developed a platform concept for interior architects and office planners which unites all services and products.
The concept clearly sets new standards for the world of work: based on a modular and flexible approach, the six zones not only provide people with orientation, but also offer the ideal working environment. Welcome Zone, Meeting Zone, Relax Zone, Learn Zone, Work Zone and Lead Zone combine expertise and the perfect opportunity to design the workplace according to individual needs – more communicative, lighter, more productive, more practical, more efficient and more agile.
An essential component of Splaces is HUB, a modular system based conceptually on a modern sofa and a sophisticated wall system, which can be used together or as a single element.
HUB is as versatile as the people who use it. The elements such as back walls and pods are of various height and width, as well as mobile partitions, benches and side tables. All equipped with the most important features such as suspension elements for whiteboards and media connections. The great strength lies in the flexibility that offers the user the greatest possible freedom. A few elements can be used to create countless scenarios that perfectly fit the individual, the team, or whatever you may be planning. The feeling of openness is created and the flow of space is maintained.
www.interstuhl.com