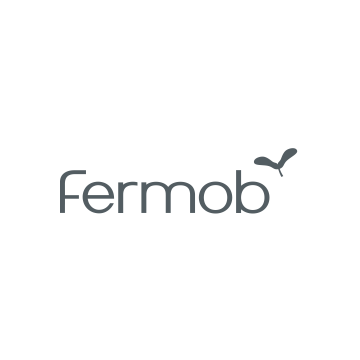 FERMOB
Fermob: furniture which likes gardens which like colours. Fermob, the creator of colourful metal furniture, has been adding a touch of brightness to terraces and gardens for more than 20 years. Fermob furniture is attractive, playful and practical, offering both softness and colour! The purpose of this furniture can be summed up in two words: outdoor and lounge. Outdoor: for everything that attracts us outside to recharge our batteries. Lounge: for our ambition to provide relaxation and well-being. For the growing number of people who share this ambition, Fermob offers innovative, comfortable furniture with a vast range of gentle, varied shapes. And with the additional creative freedom provided by the multitude of colours available, the brand offers a unique choice within its market.
Garden furniture with creative added value. Fermob's creations have always included an element of design. The brand has manufactured Pascal Mourgue's Lune d'Argent since 1986. In 1998, it collaborated with Patrick Jouin to create Facto. In 2004, it commissioned Frédéric Sofia to redesign the iconic chairs of the Jardin du Luxembourg. And Fermob continues to combine its metalwork expertise with the input of creators and designers. Jean-Charles de Castelbajac has designed the Ange winged chair. Harald Guggenbichler has experimented with wires and perforations to create Flower and Surprising Lounger, two collections with a retro style. The Delo Lindo agency has signed the Tablabri table with protective fabric cover – its first collaboration with Fermob. Andrée Putman has taken aeronautics materials and created Inside Out for Fermob. Fermob has been able to commission and take on board this unique abundance of creative talent with ease.
Furniture that makes its mark on people's minds, not on nature. Loving, protecting and enhancing nature by creating furniture that works in harmony with its surroundings… Fermob's activity is focused on the outdoors, so it is only natural that the company should place sustainable development at the heart of its manufacturing processes. Respect for the environment is second nature for the French manufacturer of furniture that loves gardens that love colour. It is written in the company's genes. Fermob cultivates this value and applies it to its every day processes, good practices and materials. Remember that metal (iron or aluminium) is more than 98% recycled all over the world.
www.fermob.com